Training and nutrition tipps
Nutrition for real sportsmen
Since men started doing sports a lot of athletes try to get better by selective nutrition - and yes: it's possible. On this page we'll provide you with important hints and tipps for a healthy, endurance supporting kind of nutrition:
a well balanced nutrition is the precondition for health, well-being and performance.
Individual good-naturedness, insufficiencies, liking also as lost mineral nutrients must be respected.
Nutrition and training must be combined for perfect preservation and enhancing of performance.
For these reasons we recommend a organic wholemeal diet to provide you with all necessary nutritive substances.
Following list may ease the choice of the right groceries.
Recommended carbohydrates:
Whole-grain products like wheat, oats, rye, corn, sorghum, barley, unripe spelt grain
Brown rice
Potatoes
Pulses
Recommended protein:
Low-fat milk-products
Fish
Nuts
Pulses
Only less meat and eggs
Recommended fats:
Cold-pressed vegetable oil - not refined, not bleached
Seeds, nuts, pits
Only less butter
Mineral nutrients and vitamines
Fresh fruits, vegetables, seedlings, salad (about 600 grams per day)
Fruit juices, water
Ideal eating pattern--before training
Eat five times a day. Eat only what you copes. Eat at least 100 minutes before training.
Examples:
Whole-grain pasta with vegetables and grated cheese
Rice, vegetables, fish
Potato casserole, vegetables, curd
Ideal eating pattern--before competition
Cereal with banana and honey
Low-fat potato- or noodle dishes with vegetables
Don't eat unusual and strong sugared groceries and/or drinks. Prefer to start a little bit hungry.
If you provide your body with enough liquids your blood is usually more thin fluid. Already a fluid loose of 2% of your body weight reduces your performance considerably.
Please take care of:
Drink 500ml about 30 minutes before the competition starts
Drink slowly, don't drink cold drinks
If you're taking part in longer competition drink every 30 minutes
Avoid drinks with alcohol or much sugar
Prefer fruit juice mixed with mineral water, herbal or fruit tea or alcoholfree weiss beer.
Ideal eating/ drinking pattern--after competition
Drink a lot of drinks containing potassium, magnesium and carbohydrates. Then refill the consumed glycogen with a low-fat, carbohydrate-loaded meal.
Important note:
Do not abstain from anything, find a new weighting, i.e. reduce sugar, fat and alcohol, increase eating fruits, vegetables and carbohydrates.
My recommendation is hard cheese, dark bread, a lot of fruits and vegetables.
Of course all your food and drink should be as natural finish as somehow possible and you should prepare your meals as gentle as possible. Also prefer organic groceries.

Good luck, good healthiness and have fun enjoying your sport!

yours Siegfried Kaltenbach
About the author:

Sigfried Kaltenbach is one of the oldest participants in EFNS - participating in all EFNS races since the early 1960s and often one of the winners.

Today Siegfried Kaltenbach is responsible in the international EFNS board for tracks and races.

His tipps are highly rated by all EFNS participants.....
Tipps für Training und Ernährung
Ernährung für Ausdauersportler

Seit die Menschen Sport betreiben, wird versucht, durch gezielte Ernährung die Leistung zu steigern - und ja, es ist möglich. Hier bieten wir Ihnen wichtige Tipps für eine gesunde, ausdauerfördernde Ernährungsweise:


Richtige, ausgewogene und angepasste Ernährung ist Voraussetzung für Gesundheit, Wohlbefinden und Leistungsfähigkeit.
Individuelle Verträglichkeiten, Mangelsituationen, Vorlieben, sowie verlorene Mineralstoffe müssen berücksichtigt werden.
Ernährung und Training müssen zusammenspielen, zur Erhaltung und Steigerung der Leistungsfähigkeit.

Alle diese Gründe sprechen für eine Vollwerternährung, die alle nötigen Nährstoffe liefert.

Folgende Auflistung soll die Auswahl der Lebensmittel erleichtern.
Empfehlenswerte Kohlenhyhrate:
Vollkornprodukte aus Weizen, Hafer, Roggen, Mais, Hirse, Gerste, Grünkern
Naturreis
Kartoffeln
Hülsenfrüchte
Empfehlenswerte Eiweisträger:
Milchprodukte, fettarm
Fisch
Nüsse
Hülsenfrüchte
Fleisch und Eier in Maßen.
Empfehlenswerte Fette:
Pflanzenöle kaltgepresst, nicht raffiniert, nicht gebleicht
Samen, Nüsse, Kerne
Butter in Maßen
Mineralstoffe und Vitamine
Frisches Obst, Gemüse, Keimlinge, Salate (ca.600 Gramm täglich)
Fruchsäfte, Mineralwasser
Richtiges Essverhalten--vor dem Training
Fünf Mahlzeiten über den Tag verteilen. Auf gute Verträglichkeit achten. Die letzte Mahlzeit mindestens 100 Minuten vor dem Training einnehmen.

Beispiele:


Vollkornnudeln mit Gemüse und Reibekäse
Reispfanne, Gemüße, Fisch
Kartoffelauflauf, Gemüse, Quark
Richtiges Essverhalten--vor dem Wettkampf
-Getreidemüsli mit Banane und Honig.

Fettarme Kartoffel- und Nudelgerichte mit Gemüse.
Keine ungewohnten oder stark gezuckerte Speisen und Getränke zu sich nehmen.
Lieber leicht hungrig starten.

Bei guter Flüssigkeitsversorgung des Körpers ist das Blut relativ dünnflüssig. Schon ein Flüssigkeitsverlust von 2 % des Körpergewichts reduziert die Leistungsfähigkeit.

Beachten:

Bis ca. 30 Minuten vor der Belastung 500 ml trinken.
Langsam trinken, nicht kalt trinken.
Bei längeren Belastungen alle 30 Minuten trinken.
Getränke mit Alkohol oder hohem Zuckergehalt sind ungünstig.
Bewährt haben sich Saftschorle, Kräuter- und Früchtetee und alkoholfreies Weizenbier.
Richtiges Ess/ Trinkverhalten--nach dem Wettkampf
Getränke reich an Kalium, Magnesium und Kohlenhydraten trinken. Danach das verbrauchte Glykogen mit einer fettarmen, kohlenhydratreichen Mahlzeit auffüllen.
Merke:
Auf nichts verzichten, nur anders gewichten, d.h. Zucker, Fett und Alkohol reduzieren, die Anteile von Obst, Gemüse und Kohlenhydraten erhöhen.
Empfehlenswert sind harter Käse, dunkle Brote, viel Obst und Gemüse.
Selbverständlich sollte das Essen und das Trinken so naturbelassen wie möglich eingenommen werden, die Essenzubereitung so schonend wie möglich erfolgen. Verwenden Sie vorzugsweise Nahrungsmittel aus Bioanbau.

Viel Erfolg, Spaß, Freude und Gesundheit beim Ausdauersport

wünscht, Siegfried Kaltenbach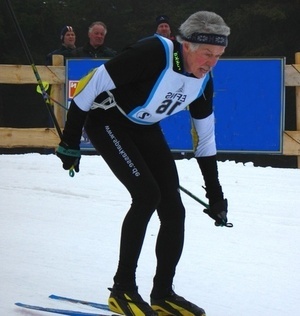 Über den Autor:

Sigfried Kaltenbach ist EFNS-Urgestein - seit Anbeginn der EFNS-Veranstaltung Jahr für Jahr Teilnehmer und Jahr für Jahr siegreich. In allen Altersklassen nahm er immer Spitzenplätze ein.

Mittlerweile ist Siegfried Kaltenbach im Vorstand der EFNS als Technischer Delegierter tätig.

Seine Sport-Tipps sind von den Teilnehmern der EFNS sehr geschätzt und hier auf www.efns.eu wird er künftig etwas aus dem "Nähkästchen" plaudern.....