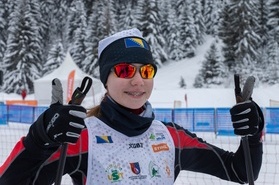 Photos von der EFNS - always on!
Current photos of EFNS - have fun!
Like every EFNS also this year we provide a lot of photos from the great EFNS event. Enjoy!
Photos von der EFNS - with big thank you to Szymon Kozuch!
Starting lists 52nd EFNS in Duszniki-Zdrój
Startlisten der 52. EFNS in Duszniki-Zdrój
Dear participants,
here you can download the starting lists for the 52nd EFNS in Duszniki-Zdrój.
Enjoy!
Liebe Teilnehmer,
hier könnt Ihr die Startlisten für die 52. EFNS in Duszniki-Zdrój laden.
Viel Spaß!
52. EFNS in Duszniki-Zdrój in Polen
Come and visit the beauty of the Sudety
Vor der wunderschönen Bergkulisse der Sudeten werden 2020 die 52. Spiele der EFNS stattfinden - ein ganz besonderes Ereignis, das man sich schon jetzt in seinem Terminkalender unbedingt vormerken sollte! Die EFNS zum ersten Mal zu Gast in Polen
19. Januar bis 25. Januar 2020
Save the Date: 53rd EFNS in Sarajevo 2021
Jetzt schon vormerken: die 53. EFNS in Sarajevo 2021
Dear friends,
keep in your mind and save the date: 7th-13th February 2021 - 53rd EFNS in Sarajevo
Have fun!
Liebe Freunde,
nicht vergessen: jetzt schon vormerken: vom 7.-13.Februar 2021 findet die 53. EFNS in Sarajevo statt.
Viel Spaß!

Never miss an efns date -add all dates to your calendar !
Nie wieder einen EFNS Termin verpassen !
Alle Termine mit einem Klick in den Kalender übernehmen !
....or subscribe to the efns dates
- so you are always up to date - fully automatically
Just embed the following calendar link in your calendar app
....oder abonniere unsere Termine
- so bleibst Du immer automatisch auf dem Laufenden
Binde einfach den folgenden Kalender-Link in Dein Kalender-Programm ein...